SimCity – iPhone App Review
I probably let too much time pass before writing this review since when I set out to do it – this app was in my concept iPhone apps list. Come to find out, it had been in development for… a while to say the least.
I remember sitting at my parents old 386x PC in the morning playing the original Maxis SimCity Classic, setting the speed to high just to get enough cash to buy that airport before I had to leave for school. That original feeling hasn't really changed (neither has the veil of complexity that is their city development intelligence).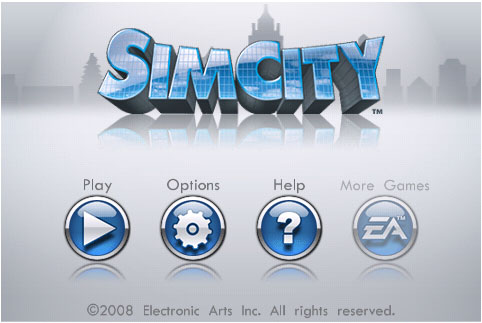 What I like about this app:
Highly usable interface – It's interesting that when there is such an intense challenge as the space constraints that the iPhone screen imposes on game developers, they are innovative and produce a highly usable product. It doesn't seem like much thought is really put into a lot of things in out lives so this is an interesting phenomena. The controls and overall feel of the game is so fluid and well thought out you don't even notice it. I mean, maybe it's not 100% easy to place items on the grid, and I'm not saying I haven't screwed up a bunch of times. I'm saying that the way they went and customized the controls to suit the screen constraints is brilliant and makes me feel humbled that someone would pay so much attention to me.
Beautiful graphics – The interface graphics, the motion design, and the in game graphics themselves are great. They're very "Web 2.0 for games (??)" … I mean shiny. Very appealing and the music and sfx are well done to boot.

Summary
On it's initial release I had some issues (as did many others) with loading the app (at all). There was some kind of memory issue which caused the app to take a while to load, and so what you'd see was a white blank screen for a while, and then eventually the game would "start". I suspect that what they did to fix it was to just replace the white screen with a "loading" screen. I honestly can't tell if it's quicker to load now or not, but the point is that it opens completely every time and I don't notice any problems.
I have kind of taken a break from this game for a while after about a solid 2 weeks of playing it like it was crack. So for me, the replayability of it is limited. Overall I think I got my money's worth and I'm happy to have it at my disposal if I ever feel the urge to buldoze some slums.
Join the SimCity Rivalry
Which game do you like more: SimCity Classic or SimCity for iPhone?