Monday, March 2nd, 2009
UPDATE: 2/25/2012 | Twollo, the application mentioned in this article apparently is no longer active. I thought this was pertinent to mention so you don't potentially waste any time implementing this approach to increasing your Twitter following.

Like most people who start out on Twitter I was left with the question, how do I increase the number of followers or more specifically my reach on Twitter? There are a number of ways to increase your following but I haven't come across any methods as easy as the one I'm about to explain. Increasing your following is completely useless if you don't have the personality or originality to keep your followers interested in what you have to say.
Before diving much further into this creative little tactic I should explain that I am fairly new to Twitter and I undoubtedly have a lot to learn which I will continue to do on a daily basis through research and trial and error (hopefully less error). Seeing how I am not a Twitter power user and make no claim of knowing all of the in's and out's of Twitter I am writing this for those of you who are new to twitter trying to find a way to get your profile started in a positive direction. One thing you'll learn very quickly is that there are a lot of third party app's, websites, services that can interact with your Twitter account; with this strategy we are going to take advantage of two of those tools to jump start your Twitter following.


Do you Twollo? That's a question you need to ask yourself. If the answer is no, It's time to enter twollo.com into the address bar of your favorite browser to take a peak. Twollo is an auto follow program that will follow a set amount of people who are tweeting about any keyword(s) you enter. You can set the amount of people twollo will auto follow for each keyword. Do you see how this could be useful? Of course you do but don't get carried away.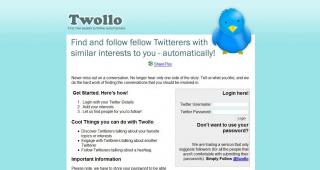 When I get those infamous emails from Twitter notifying me of a new follower one of the first things I do is look at is that users following/followers ratio. This isn't my only determining factor but if their ratio is too far in one direction I usually don't follow them in return. I have read on a couple of occasions that the following/follower ratio isn't only significant to the way other people on Twitter view you but also has some form of an impact within a Twitter algorithm. It is important to note that I have never actually seen evidence to support this but the ratio shouldn't be taken lightly regardless. After discovering Twollo you may be tempted to auto follow thousands of people, don't do it! Very similar to real life, people don't like tag-a-longs who offer little or nothing to the conversation. I can guarantee you that you will be a nuisance and of little value to anyone. (more…)