A Detailed Look at Wilson Electronics 4G LTE (801865) Amplifier and Compatible Antennas (304411 and 301111).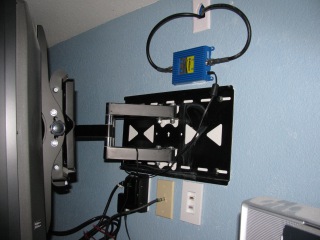 Here you can see where I opted to mount the Wilson Electronics 4G LTE amplifier. I chose to mount it behind our television so it could be hidden and have access to an outlet without required a bunch of cable to accomplish it.
Shortly after purchasing my Droid Bionic 4G LTE smart phone I was blown away by the results of my data transfer rates on bandwidthplace.com. Depending on my location I was getting speeds between 3Mbps to 32Mbps and no, I'm not joking. This along with the mobile hotspot capabilities of the Droid Bionic is what peaked my interest in finding a way to get a Verizon 4G LTE signal at home which has been a problem since we switched from At&t to big red a couple of years ago.
Our neighborhood apparently is in a Verizon black hole where the force is so strong that no reception can penetrate through. Well, that's not entirely true, we get a signal but it's random and jumps from network to network (1x, 3g, 4G LTE occasionally on one side of the house) every few seconds. Bear in mind that the signal we received was never enough to make a call or transfer data. Up until I decided to ditch my home internet and setup a home network using my Bionic we had been using a Verizon (Samsung branded) network extender which worked great for phone calls but required a high speed internet connection and did not function well with data functions like text messages.
Okay, enough with the back story lets get to the meat of what this article is about; Wilson Electronics (WE) 4G LTE signal Booster and the accompanying WE antennas. Considering that I am a rather cheap individual I was not willing to pay retail for a WE all in one kit ($700+) so I decided to piece the system together using several sources which I'll detail below.
The Review: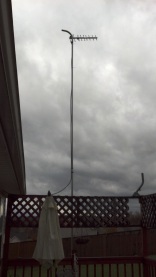 The question on your mind is likely, Does it work? YES! Let me start by saying that I went from sporadic signals that lasted no more than 5 seconds to a consistent 4G LTE signal that floats between -82 and -95 depending on the tower I'm receiving the signal from. This provides roughly 4Mbs to 12 Mbs download speeds and upload speeds between 1 ½ Mbs to 5 Mbs. However, your situation may vary for a number of reasons. Careful research and thought must be conducted prior to making the investment. To give the primary and very general requirement for success with WE signal booster here's what the technical support staff at WE told me, if you can attain a signal from the carrier then this system will work for you. Meaning, if you can lock onto a signal from the carrier even for a brief moment or two this system will likely help you attain a solid and consistent signal. I'm not saying you'll be sitting with a -65db signal but if you're situation is similar to mine you could see signals ranging from -82db to -94db depending on several factors; like distance to the tower, broadcast power of the tower, etc…
Negatives:
Monopoly on Cables: The cables used are WE exclusive which will force you to spend a lot of money on cables for the installation.(As detailed by a couple of different visitor comments, this statement is inaccurate. WE cables are LMR 400 equivalent with N connectors.)
The cable is VERY stiff and not easy to maneuver.
Price of Coaxial Surge Protector: We had a house hit by lightning so we appreciate the need for this product but $70 is outrageous for what the product is. We'd all probably pass out if we knew the markup on this item.
Installation Requirements: The distance between the antennas and the being forced to mount the booster inside the home/business makes for an expensive project.
Positives:
Works as advertised. I'm likely the only resident in a half mile radius with 4GLTE. That comes with bragging rights.
The booster, surge protector, and antennas all seem very well built.
WE support staff is very helpful and some of them are very insightful.
Bottom Line:
Depending on how much you pay for the system I would say it's worth every penny as long as you don't spend $800 as WE suggested it would cost during my first phone call with them.
The Hardware:
WE 4G LTE 700 (801865) Booster (Purchased items 1, 2, and 3 from SolidSignal.com) Product Link: 801865 with 301135 and 301111 or 801865 with 301135 and 304411
WE Dual Band Panel Indoor Antenna (301135)
WE Wide Band Antenna (304411) NOTE: According to WE Support staff the 301111 Yagi antenna will not work for the 700 MHz band (Stated it's an 800 MHz) THEY WERE wrong and even the manual that comes with the 301111 states that it works for the 700MHz band. Furthermore it is this antenna that I am using now so I can personally guarantee it works with the LTE network.

Here is the first antenna I used but have seen a slight improvement using the 301111 antenna which has significantly higher gain for the 700mhz range.

AT LEAST 50 feet of WE Ultra Low Loss Cable 952350 N male connectors on both sides of the cable. In order to use your amplifier at near full power you need at least 50 feet of separation between the inside and outside antenna. (Bought mine on Rocksignal.com) Product Link: 50ft Ultra Low Loss WE cable
AT LEAST two separate 2 foot (longer cables will allow more flexibility when it comes to installation. I recommend at least one of these be a 10 foot cable) WE Ultra Low Loss Cables 952302 N male connectors on both sides. (Only need one if you opt not to use the lightning protection) (Bought mine on Amazon.com) NOTE: I didn't realize I would need these cables initially so I ended up buying them from Amazon but it would probably be more cost effective to buy these from RockSignal.com as well because shipping may be combined and their price is better.

Here is the Wilson Electronics Yagi Outdoor antenna (301111) bolted up to a 45 degree elbow pipe which is welded to two 10.5 ft top rail poles for chain link fences.

Mounting Hardware: A pole of 1 ½ to 2 inches in diameter to mount the outside antenna on. The pole needs to be AT LEAST four 3 ½ feet long as there has to be at least 3 feet of clearance in all directions of the antenna. (I welded two top posts for chain link fences together and welded a 45 degree angle piece of metal conduit to the top to enable me to elevate the WE 301111 antenna. Found at Home Depot)
Optional: WE Coaxial Lightning Surge Protector 859902 (Overstock.com currently has this item for a really good price.) NOTE: We were previously hit by lightning and lost a lot of electronic equipment so let me just say, Don't be a cheap ass and spend the extra $60 or so to protect your WE amplifier and countless other devices that could be affected if the lightning jumps to another part of your electrical system. Product Link: WE Lightning Surge Protector
The Overall Cost: (Estimated)
WE Amplifier (801865) and WE Indoor Antenna (301135) and WE Outside Antenna (304411) – $299.99 plus $12.95 for shipping = $312.94
See links in the Hardware section #1 for links to the kits that include the 301111 or 304411 antenna.
50 ft cable (952350), 10 ft cable(952310), and 2 foot cable(952302) = $69.79 plus $8.95 for shipping = $78.74
WE Lightning Protection (859902) = $46.49 plus $2.99 for shipping = $49.48
——————————————————————————-
Total = $441.16
Please keep in mind you will need some other materials including a pole to mount the outside antenna to, electrical tape, wire ties, etc… but this should give you a ballpark idea of what you're looking at for the cost.

Installation:
If you have a Android powered phone download an app called "Open Signal" as this will help you find your nearest towers and will help (Somewhat) in the aiming process.

Here is a signal chart for roughly three minutes to show the signal strength I'm getting buy using the Wilson Electronics system.

Utilize the app above to discover where you nearest towers are. Spend some time walking your property, neighborhood, and even drive down the street to see where the most consistent signal is coming from. Then move to step 3.
Evaluate the best mounting area on your property/house while considering the following things; location of the cell tower, where your inside antenna will be mounted knowing the outside antenna can't aim anywhere near the direction of the inside antenna (oscillation WILL occur), distance the outside antenna is from the inside antenna (50 feet minimum is required for near full power on the amplifier), and finally the most important thing; whether or not your wife will approve of the location because if momma ain't happy 4glte or not, YOU WILL NOT be happy.
Next run the cable to the locations you plotted making sure you've met the previously mentioned requirements.
Install the antennas: Inside and outside.
Install the Coaxial Surge Protector.
Mount the Signal Booster and connect the cables. The SB needs to be mounted on the inside of your home away from the extreme temperatures of the attic or outside weather. Unless you opt to buy more than 50 feet of the cable listed above then this takes VERY careful planning. Mine is mount less than a foot from the ceiling behind our plasma tv. Consider whether you have an inside location that will work with only 2 – 2 foot cables to reach the inside antenna and surge protector. If not you will have to buy longer cable.
Check all of the connections and then plug it in. If both of the lights are green it's working as expected, now aim using the Open Signal app as your guide but give the cell phone plenty of time to process the signal before making adjustments to the outside antenna.
Aiming Tips:
Consider your location carefully. If for example like me, you aren't currently getting a good signal due to hills, trees, or land is blocking the signal you might need to slightly elevate your antenna in addition to mounting it at a higher point. As you can see in the images above I mounted my antenna fairly high (About 20 feet) and have it installed at a slight angle. Also, be patient when checking for signals, cell phone signal meters are not in real time. At points in the aiming process if you drop your signal all together be sure to check the amplifier inside the building, chances are you may have tripped the oscillation protection. This means your antennas signals are coming in contact with each other and need to be separated. Feel free to ask any questions in the comment section below and make sure to sign up on JealousBrother.com and get involved in some rivalries. Thanks.
Update: 6-22-2014
Verizon has discontinued the use of the 700 mhz frequency band in the are where I live so this amplifier is now completely useless to me. The quality of the amplifier cannot be questioned but unfortunately for me I have a pretty blue brick. Still have 700 mhz in your area and interested in buying the amplifier? service@jealousbrother.com