12 iPhone Apps That Would Dominate
Like most iPhone junkies, I cannot stop checking the App Store for updates. I've played out all the cool games like Fieldrunners, Blackjack, Bejeweled, Line Rider, Strategic Assault, Lux Touch, and Flashlight. I've settled on my core programs like Pandora, Bloomberg, iTrans NYC, BeejiveIM, RTM, AirSharing, and others.
I just can't want to find the next great App. I understand the App Store is still in its infancy, apps are difficult to monetize, and people are scrambling to get their product out the door even if it's buggy as hell. But I don't care – the bottom line is that I'm impatient and so I've put together my own fantasy world list of apps that I would like to see. The criteria isn't extremely objective; some of my apps may seem obvious and for the others I'll offer up a bit of explanation.
I present to you … THE LIST:

(in no particular order)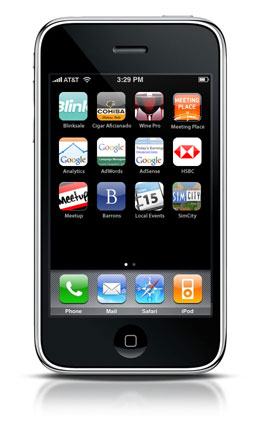 Page 1: 

Page 2:

Page 3: (coming soon)

HSBC
Meetup
Barrons News

---

Concept iPhone App: Blinksale

By Fire Wheel Design – Price: FREE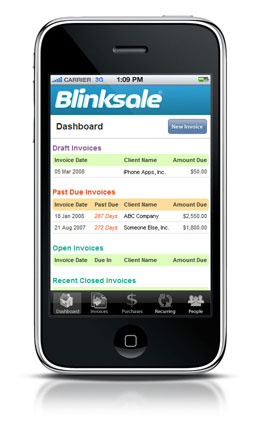 Why do we need this?
Because having your accounting info on the go is handy. Think about when you're killing time – might as well keep those names of people who owe you fresh in your memory. You could also email an invoice immediately after presenting the deliverables, or record a payment received when you're depositing the check at the bank. I suppose the reality of my reasoning behind this app is that I love Blinksale. I love it's interface, I love it's simplicity, and I think it deserves an app.
Proposed feature set:
View all invoices
Record a payment received
Create and send an invoice
Manage clients
Current App Store alternatives:
---

Concept iPhone App: Cigar Aficionado

By Cigar Aficionado – Price: FREE (+ subscription version)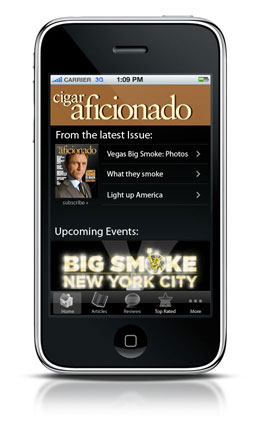 Why do we need this?
The last issue of Cigar Aficionado had a 'top rated' tear-out that you could bring with you to the cigar store and read about the selection a bit before buying. It was a very nicely designed tear out and fortunately I spent enough time reading it on the can and memorized the ratings and general descriptions of those on the list. My only problem now is that when I go to the store, I have to try and remember what the heck was on that list. If I only had an iPhone app to lower my thinking requirement…
Proposed feature set:
Top rated cigar list plus…
…Social commentary
Upcoming events in my area
Featured articles from the latest issue
Order the latest issue or subscribe
Current App Store alternatives:
---

Concept iPhone App: Wine Pro

By Anybody – Price: $14.99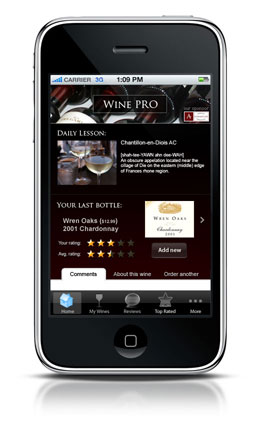 Why do we need this?
There's a lot that goes into mystifying wine. (ex: Region, varietal, vintage, etc.) What does all that mean anyhow and how can I sort it out? If you drink wine and own an iPhone, chances are you've looked at the current offering of apps. I think they all each hit on one of the core features that a good wine app should have, but there isn't one that just nails it. This app proposes to combine the best of everything.
Proposed feature set:
Record your wine info (photos, details, rating)
Research and read descriptions of wines
Learn definitions and food pairings
Read and contribute to social commentary
Check out deals and order bottles
Stores info locally and remotely
Accessable via web app
Current App Store alternatives:
---
Concept iPhone App: Meeting Place

By Anybody – Price: $.99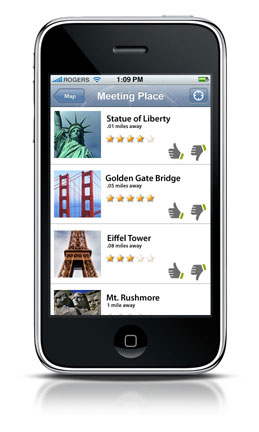 Why do we need this?
To be honest we don't really NEED this app. It's a pretty cool idea though you have to admit. Think "meet me near the ______." The way it would work is fairly simple – just open the app, it get's your location, and displays the most recognizable landmark (photo + description) by distance from you. In theory, you'd also be able to go to a map interface and find landmarks in a destination area or something. Another problem is that it would be entirely user generated content driven since this information doesn't likely exist elsewhere. However, once there's some data in the system, you could let people vote on each landmark.
Proposed feature set:
Display the most common landmarks near you
Find landmarks in destination areas
Contribute photos and descriptions
Browse through your own "bookmarked" places
Stores info locally remotely
Current App Store alternatives:
I doubt there's something like this already. I'm not even going to look into it.