Panera Bread is known for great food, free wifi, but what about enlightenment?
Panera Bread is known for great food, free wifi, but what about enlightenment?

If you've ever been to Panera Bread you know a couple of things to be true, great food and one of the only remaining companies to still offer free wifi internet. It was just a typical Thursday for me, nothing out of the norm. I worked my first delivery of the day and then stopped off at Panera to grab some breakfast, check my email, and check in with the website. As I was waiting for my buzzer to go off so I could pick up my delicious breakfast sandwich (bacon, egg, and cheese) I began hearing what started off as a bit of an annoying conversation between two women a couple tables away from me.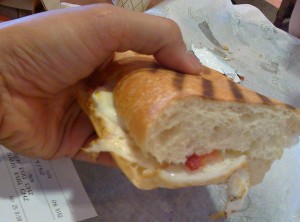 I was so preoccupied with listening to their conversation that my buzzer startled me when it vibrated on the table. After grabbing my breakfast I rushed back to my table so I could continue eavesdropping on the conversation between the two women. What started as a bit annoying actually became very entertaining; obviously two friends who were calmly disagreeing about everything from the presidential race to health care. There were a couple of moments where I actually couldn't hold back a smile from being amused by the dialogue. One of the ladies hopped up to get something across the restaurant while the other women made eye contact with me. I took this opportunity to express how much I was enjoying listening to their conversation. The other women returned to the table happily including me in the political debate. It was a lot of fun to discuss current issues with these women; both of them had some great points and were obviously intelligent. For me nothing is more entertaining than having an intellectual conversation with people who have opposing views, so long as it doesn't get too heated.
You may ask what is so enlightening about two women bickering over politics, trust me I have a point. About half way into their conversation I found myself realizing, holy crap; this is what JealousBrother.com is all about. Here we have two people with completely different points of view and they are managing to calmly discuss things they are passionate about. These types of conversations undoubtedly take place across the country and the world. What if all of these passionate yet argumentative individuals actually knew JealousBrother.com existed and that they could argue and discuss politics, sports, news, or any other topic in a fun and interactive way with not just one friend but hundreds and hopefully thousands of other people? It was these women who motivated me to start one of the newer rivalries, privatized health care versus socialized health care. As I was leaving Panera I stopped for another small dose of friendly debate. Before I headed out the door I explained that I was the owner of a website called JealousBrother.com and that their conversation motivated me to start a rivalry on the website.
Anyone who has attempted to start a blog or website knows the frustration that can set in as you attempt to drive traffic in the direction of your site. For me, it is this event along with countless others that help me stay focused with my eye on the goal. Do any of you have an enlightening story that helped keep you focused? I'd love to hear them.
Ryan Kazinec