Building a Social Network: Logo Design: Clip Art, Simple, or Custom?
If you want your website to stand out and be easily recognizable then you will need to consider a custom logo to go along with the unique domain name you have already registered. Once again there are multiple options for getting this done. There are numerous companies online who offer custom logos for a flat rate. These companies usually allow for a certain amount of revisions and offer a multitude of guarantees. I personally chose a different route so I can't comment on this from personal experience, but I can tell you that I would be very uneasy trusting my information with a company I knew very little about.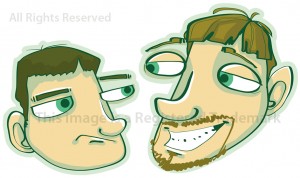 It is quite possible that your web developer could design a custom logo and if he/she is comfortable doing so then that is likely the best path to take. However, programs like Adobe Illustrator are very complex and creating high quality vector illustrations is truly an art, as is creating websites, so it is easy to understand why a developer could be brilliant in html, php, mysql, etc… and not be a jedi master in illustration. I mentioned vector illustrations for a particular reason; if you're planning ahead they are a must. Once again I am not an expert but vector images/illustrations can be blown to any size without losing image quality. This would be ideal for billboards, signs, etc… for the future marketing of your website. This is different from jpeg's and gif's because to increase the size of those images you actually have to zoom in, which is what causes the picture quality to diminish and what creates the digitizing effect you get.
You may not need a complex logo designed; a basic logo may suit your needs. When trying to decide what to do remember that your logo represents your company/website. The trick is to create a logo that stands out and correctly represents your company/website without being obnoxious or distracting. With JealousBrother.com we faced a couple of issues. First, I wanted our logo to represent where the idea came from for the website, the competition between my brother and me. We opted to have a slightly more distracting logo to keep that personal connection to the idea. Only time will tell if we made the right decision on the logo. If you choose to have your logo designed there are a couple of important things to keep in mind. Make sure you are paying for and receiving full ownership of the completed logo. Some graphic designers/illustrators will try to slip in different types of licenses. Much like the windows operating system discussed earlier, a license is not ownership and will cause some very annoying and costly problems down the road. A license may authorize you to use the logo but the designer remains the owner of the logo. Possessing full ownership of your logo/mark is absolutely mandatory as we progress to the next step of the process; registering your logo/mark with the United States Patent and Trademark Office (USPTO).